Last week EALT participated in the 5th annual Edmonton Resilience Festival – a community gathering dedicated to fostering personal, community, and global resilience for a sustainable future. The festival featured numerous skill-building workshops, hosted conversations, and a local market, bringing together over 600 people.
But what does resilience actually mean?
Essentially, resilience is the ability to recover from a stressor or disturbance. It refers to how well and how quickly a person, community, or system can bounce back from change. The concept of resilience is broad and can be applied to a variety of different contexts (social, ecological, economic) and scales (personal, community, global).
Protected areas like EALT's conservation lands contribute to resilience on many of these scales.
On a personal or individual level, our lands provide spaces for people to rejuvenate in nature. Studies have shown repeatedly that spending time in nature can improve both mental and physical well-being. Being in nature is soothing and restorative – it reduces feelings of stress, anger, and fear, and helps people feel calm and happy. And it is not just our emotional well-being that can benefit from time in nature; exposure to nature has also been shown to improve our physical well-being, including reduced blood pressure, heart rate, muscle tension, and stress hormones, as well as longer life spans. EALT's conservation lands provide publicly accessible spaces for people to reconnect with nature.
To read more about the health benefits of nature, check out this brochure.
At the community level, visitors to our lands and those that volunteer their time and resources to our work make up a strong community of dedicated individuals. Armed with knowledge and enthusiasm, our staff and volunteers spend a lot of time out in the general community, working to educate the public and empower people to get involved in conservation. Our volunteer program offers an opportunity to bring diverse people together to connect over a shared interest in nature. Communities that are strongly connected with engaged and well-informed members are naturally more resilient and better able to cope with adversity than communities that are not.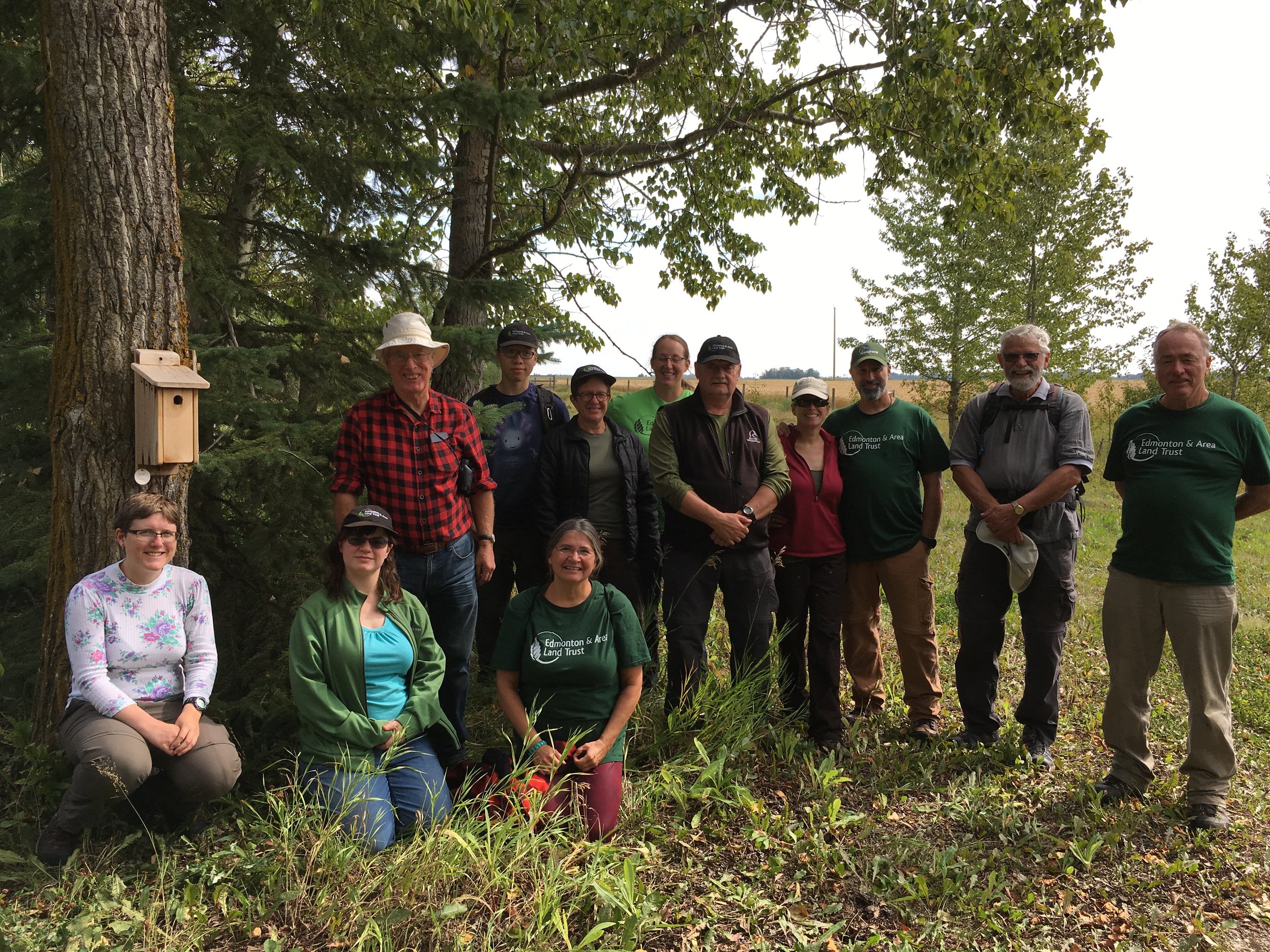 So far, what we've talked about is mostly in the realm of social resilience – how protecting land can benefit people and our communities. But our environment can also be resilient! This is called ecological resilience, and is the ability for ecological systems to bounce back after a natural or human-caused disturbance. Both ecosystems and people benefit from greater ecological resilience.
By setting aside protected land in the Edmonton area, we are making sure that the region is equipped to resist and recover from disasters. For local communities, this means cleaner air and water, protection from floods and droughts, and a defense against climate change. For the environment, this means protected habitat, a refuge for species at risk, and better connectivity for wildlife. The more land we protect, and the more diversity in the kinds of species and types of land we have, the more resilient our environment will be. Take a minute to explore our Nature Factsheets to learn more about the social and environmental benefits of conserving land.