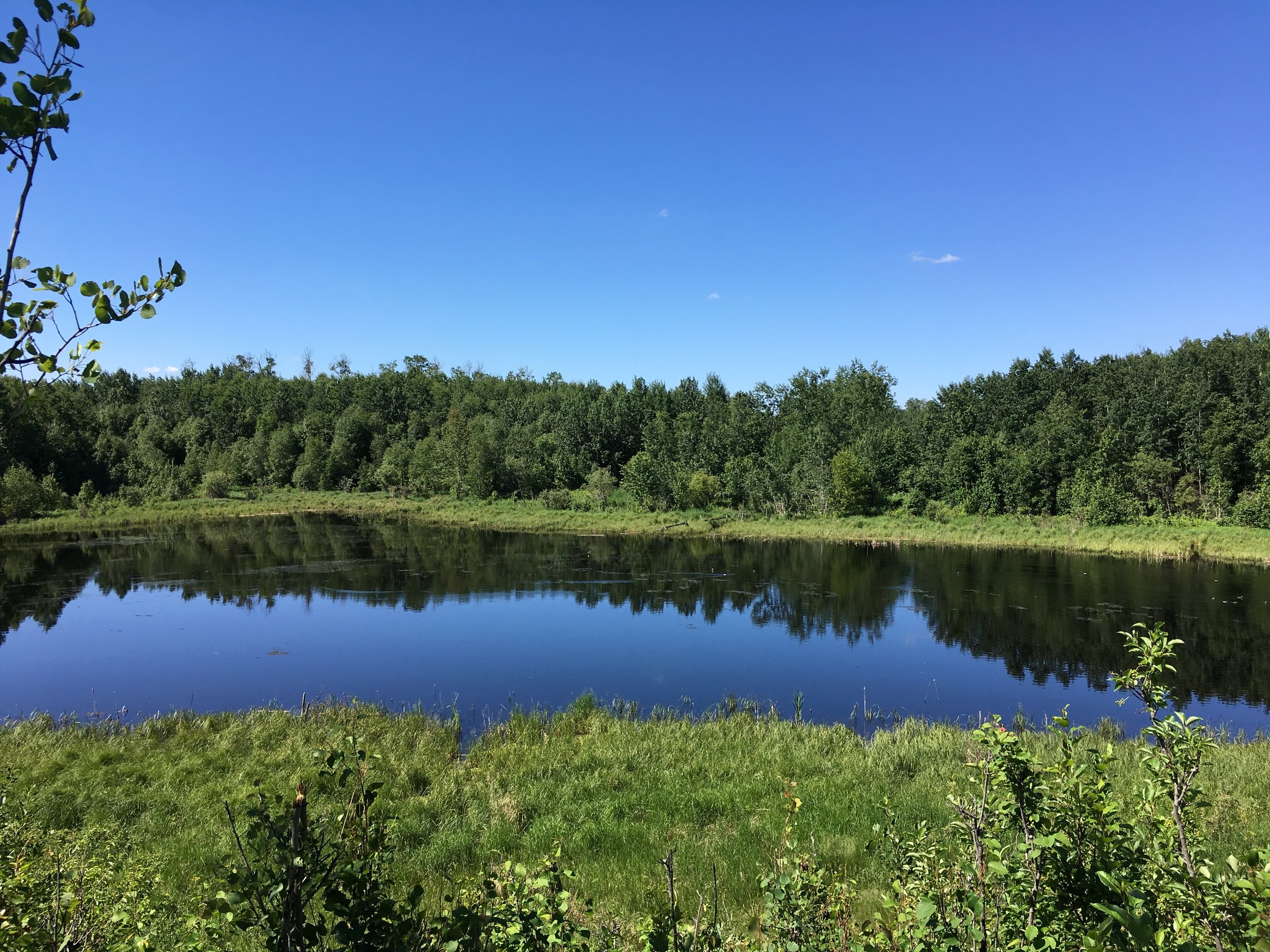 Smith Blackburn Homestead
LOCATION
line
• Located in Lamont County
• East of Elk Island National Park
• Within the Beaver Hills UNESCO Biosphere Reserve & Dark Sky Reserve
• 74 Acres
• 62 km drive from central Edmonton
SHARE YOUR PHOTOS
line
@EdAreaLandTrust #EALThomestead
In 1905 when she was 51, Mary Frances Averell travelled from northern Ontario to "prove up" the homestead claimed by her husband David in 1903, a year before his death. She was accompanied by her daughter Ruth Smith, who was also a widow with six small children. Her second eldest son, Patrick Anson Smith, inherited the land and lived on it throughout his life. His niece donated the property in memory of her husband Cecil William Robert (Cec) Blackburn.
Wildlife and Habitat
Just east of Elk Island National Park lies the Smith Blackburn Homestead in the Cooking Lake Moraine, a mosaic of wetlands and upland forest. It is considered important habitat for breeding, migratory waterfowl and other bird species.
This land is comprised of deciduous forest, dominated by Trembling Aspen and Balsam Poplar, and underlain with Raspberry and Beaked Hazelnut. The landscape is dotted with wetlands containing willows, asters and cattails. This ecosystem combination allows birds, such as Great Blue Herons, Soras, Common Loons and Common Yellowthroat, to nest, raise their young and thrive. Other species living in this space include Black Bear, Deer, Moose, Beaver, Wood Frogs, Canadian Tiger Swallowtail butterflies and many more.

Importance
The Smith Blackburn Homestead is located in the Beaver Hills UNESCO Beaverhills Biosphere Reserve and in the middle of the Cooking Lake Moraine, the heart of multiple conservation plans. With close proximity to Elk Island National Park, the Cooking-Lake Blackfoot Recreation Area, and Beaverhill Lake (an Important Bird Area), the Smith Blackburn Homestead is part of a close network of conserved areas in this region, which provide a large area of connected habitats, wildlife corridors, and stepping stones for wildlife, in a region that is otherwise highly fragmented. The Smith Blackburn Homestead is an additional piece to this mosaic of natural areas that provides homes for breeding waterfowl and songbirds, large mammals, mesocarnivores, and plays an important overall role in maintaining biodiversity in this region.
Donation In Memory
The Smith Blackburn Homestead was donated to EALT by someone who visited the property frequently as a young person, as the land had been homesteaded by her great grandmother, and lived on continuously by her uncle until 1989. This land is an ecologically rich natural area that has been preserved, stewarded and appreciated by several generations of people.
Stewardship Highlights and Recent News
Installed 31 bird boxes on the property with the help of an elementary school class.

To provide more bat habitat, we put up two rocket bat boxes with the help of volunteers.
DIRECTIONS WILL BE POSTED SOON